reflections Salon and Day Spa
Reflections Salon & Day Spa
July 19, 2016 – 09:31 am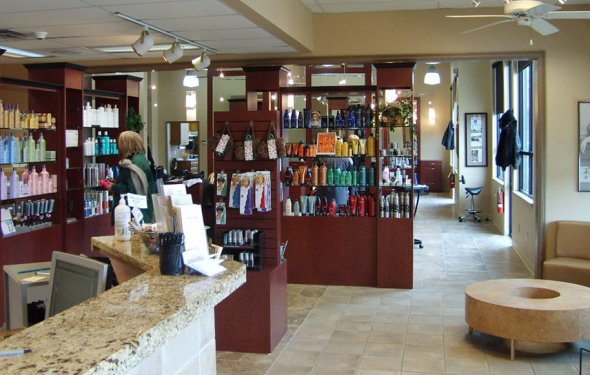 523 W Grand River Ave
Brighton, MI 48116
(810) 225-9791
I had a facial with Deanne, my 1st visit to Reflections, won't be my last. The facial was relaxing and hydrating and Deanne was delightful and so friendly. I will go back!
I've been seeing Julia since I got my first hair cut. She does amazing work. Dianne is great as well! The salon is very clean and nice. However, they are moderately pricey. I come here for my color and get my cut somewhere else to save a little money. I would give it a shot!
I finally decided to see Rachel after years of complimenting my friends on how great their hair always looked. I am so glad I did! I have the best hair cut and color I have had in over 10 years. I have gotten so many compliments. I hope you see this Rachel! Thank you!! :) :) Sarah
I came to Reflections as part of a wedding entourage. My cousin got married this past weekend, and we got manicures or pedicures (or both) on Friday, and hair and make-up done on Saturday. The overall bridal party experience was less than stellar, but I think I lucked out on the girls that I got! The salon looks very nice and is clean, and (most) of the stylists looked professional. I don't know why hairstylists would wear flip flops and come to work with their hair wet or messy... I think it would be a more upscale spa look if everyone wore black, or there was a stricter dress code implemented. Also, the pricing is a little higher than I am used to for an updo for bridesmaids, but I'm only comparing it to a couple of salons that I've been to around me (Ferndale/Shelby Twp areas). A couple stylists were rude, but I will talk about that later in the review. I can't remember who did my hair, but she was a sweetheart and my hair looked great, I got so many compliments on it! She gave me exactly what I asked for and when I told her to have creative direction in the back, she put a cute and fresh braid across my updo. I loved it! My nail tech on Friday also gave a great manicure, and my nails looked good - they did chip a little on Saturday morning, but it wasn't noticeable unless you were up close. I also got my eyebrows done - and they are amazing! She even recommended a place close to me (I live in Ferndale) where I could start getting my eyebrows done. Very nice ladies I spoke with. A couple of the other bridesmaids were not satisfied with their hair, but it all worked out in the end. One needed a total overhaul at the hall; her updo fell so flat that the bun started to fall out. Once it was taken down and re-done differently she looked amazing. Another bridesmaid just needed a little extra poofing and some bobby pin placement help, and a re-curl at the hall. Everyone's make-up looked fabulous as well, and stayed on through the reception. Always a plus! The only negatives were the things I mentioned earlier.. some stylists I felt were rude and snarky were Kelly, and a heavier blonde woman who was wearing her hair up in a ponytail on Friday when we were getting our nails done. I went in with my cousin for her Bridal trial and Kelly was rude to me then, and then on the wedding day made a couple of snide comments on how I wasn't getting my makeup done because I was "too glitzy" to have it done. I just felt it was unnecessary. She made me feel bad for choosing to do my own makeup (I do airbrush on myself), and others around who heard the comments felt uncomfortable. For someone who doesn't often go to salons, I got a bad impression from the start at the bridal trial from her. On an important day like a wedding day, everyone should receive top-notch service and hear nothing but nice things. Attitudes need to be checked.
I've been meaning to leave this review since December but keep forgetting. I started going to reflections in December after the salon I was going to for almost 2 years suddenly increased their prices (by almost double). When I called Reflections I told the woman I didn't care who did my hair and I just needed highlights. She recommended Ashley F. and said that she did her highlights as well and promised that id be happy with my hair. I got an estimate of how much it would be for highlights and a cut and I was shocked. I thought for sure that was a low ball estimate just to get me in the door, and id be charged much more at the actual visit. Nope. The price was exactly as we discussed, no surprises no extras. And as far as my highlights and cut- my hair has never looked better. I get so many compliments on my hair and I'm paying half the price that I was at my old salon. Ashley has done my hair a few times since and I hope she continues to do my hair for many years to come!
First off, I was charged almost double what I was told what my cut would cost when I scheduled my appointment. The man that washed my hair pre-cut was rough during the shampoo and got water everywhere. The stylist was nice and personable though.
After an awful initial experience I was invited back to try again at a discount. Wow what a difference. Jacinda is a sweetie and was very attentive to little details. My toenails looks great from the shape to the cuticles to the polish. Looking forward to another visit
I went for a manicure & all I have to say is: do not waste your money. While the nail tech was nice, the actual service was lame. A little file, a little buff, nails in a bowl of soap & water for a minute & then the polishes. On their website they advertise that the manicures are 45 minutes, but mine was 30 minutes or less. In the end, my nails look exactly like they would have if I had done them at home, only less-than-satisfactory. There is polish on my fingers & the tech didn't trim my cuticles. *sigh* Such a waste of time & money.
Related Posts